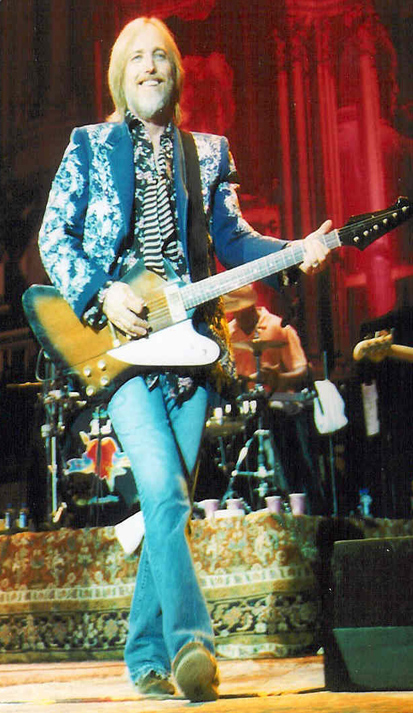 Tom Petty rocked Camden's Tweeter Center in June 2001.
With no new album to plug, Tom Petty relies on his hits
By Bill McFarland
Northeast Times Staff Writer
Tom Petty & the Heartbreakers wasted no time giving the audience what it had been waiting for. On the road for the first time in two years, Petty and his mates are on a nationwide tour that brought them to the Tweeter Centre on Camden's waterfront last Thursday.
The lights went down at 9:45 p.m., and the crowd immediately heard the distinctive guitar riff that introduces Runnin' Down a Dream, after which the band broke into one of Petty's anthems, I Won't Back Down. Thus began a two-hour love affair between Petty and a packed house. The frenzied fans jumped on their feet and remained standing throughout most of the 19-song set.
There wasn't anything fancy about this concert. Petty does not have a new album to plug, so he just played his hits, and he's had a number of them over his 25-year career. The stage was rather simple except for the backdrop, which seemed to incorporate many themes. It was a collection of people and objects surrounded by what appeared to be old English-type architecture.
There was a sea captain sitting on something that looked like a coffin; another man, perhaps a scientist, sitting at a desk thinking; a huge ear; and a sphere up above that could have been a globe with a rooster perched on top and a few things hanging from it, including an old wooden keg.
Petty began the show wearing a blue jacket that quickly came off, due to the hot, muggy weather at the outdoor venue. The artist has a good rapport with his audience, and he chatted a bit between songs. At one point, he asked for the house lights to go up so that he could see the crowd.
Musical highlights included a couple of tracks from Damn the Torpedoes. Petty had released a couple of albums prior to that, but this record made him a star.
"This song goes way back to 1979," he said. "I remember playing it back then at the Tower Theater."
It was Here Comes My Girl, after which he went into the up-tempo Even the Losers.
The middle part of the show included It's Good to Be King, Don't Come Around Here No More and an instrumental number that featured his longtime lead guitarist and collaborator, Mike Campbell. The Guitar Boogie Shuffle was fabulous and brought back shades of the Carl Perkins, Duane Eddy rockabilly sounds from the 1950s.
As the evening wound down, Petty had the crowd sing much of The Waiting and finished up with three more tunes, including Refugee, the monster hit from the Torpedoes album. Although he still looks much the same as he did in 1979, with the long blond hair and all, Petty conceded a little to age by not attempting to screech the high notes in the middle part of Refugee.
At 11:30, he left the stage for nearly five minutes, but despite the late hour, the sticky weather and the fact that it was a school night, the crowd still hadn't had enough. Petty and the band returned for a two-song encore — Free Fallin' and American Girl.
One problem with such a long, successful career is that there is so much material to choose from that the artist couldn't do everything. Petty, however, played enough songs from all of his albums that it would have been difficult for anyone to leave disappointed.
An added treat to this concert was the opening act. Jackson Browne took to the road recently and signed on for a few of Petty's shows, including the one in Camden. He did an hour-long set that included such favorites as The Pretender, Somebody's Baby and Running On Empty.
This review was published on July 4, 2001, in the Northeast Times in Philadelphia, which owns the copyright. It may not be reproduced anywhere else without permission.
Comments?
Visit Tom Petty's Web site.
Return to home