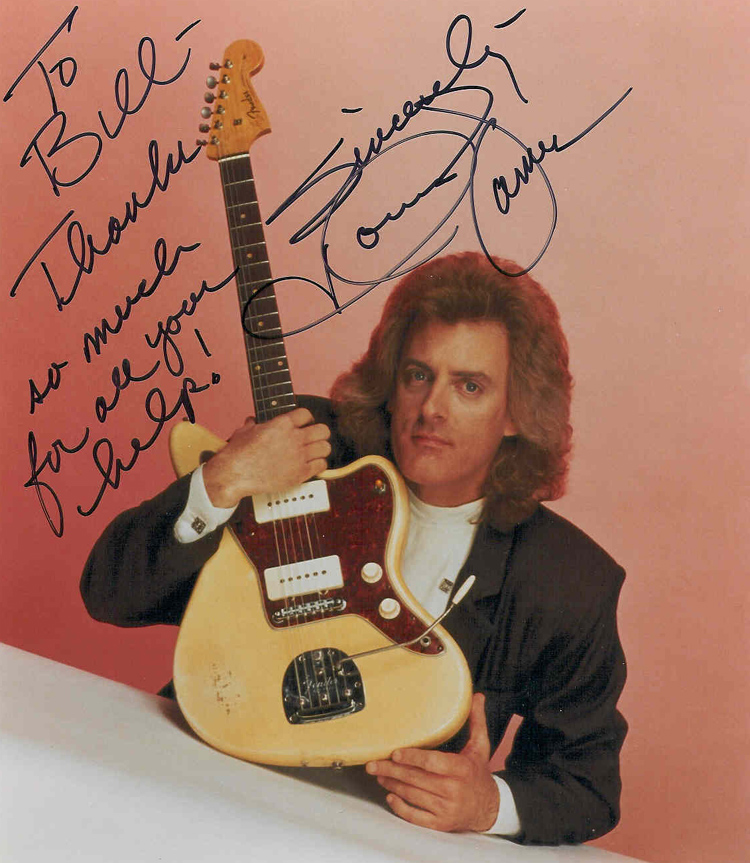 Tommy James
Still making Mony Mony
Still rocking after 35 years in the biz, Tommy James says Philadelphia fans hold a special place in his heart.
By Bill McFarland
Northeast Times Staff Writer
Like many of his contemporaries, rocker Tommy James has been cashing in on the endless demand for the music of baby boomers' youth.
Tommy James & the Shondells will headline the Oldies 98.1 Summer of Love Concert at the Tweeter Center in Camden on Thursday, Aug. 16. Also on the bill are the Turtles (Happy Together, Eleanor), the Grass Roots (Midnight Confession, Temptation Eyes), the Buckinghams (Kind of a Drag, Don't You Care) and Gary Puckett (Young Girl, Lady Willpower).
Over the years, James has sold more than 100 million records worldwide. The upcoming show is his first appearance in the area in nearly 10 years.
"I played the Spectrum in the early 1990s, but I don't think that I've been back since then," James said during a telephone interview.
It's not as if he has no fans in this town. To the contrary, the Quaker City has always embraced Tommy James.
"We get a lot of e-mail from Philadelphia," he said. "And we sell a lot of records there, and we're on the air a lot, so Philadelphia's fans have been real good to me. I've always loved the city, and I enjoy playing there."
And local fans will get a chance to see someone who first broke on the national scene 35 years ago.
The story began in Dayton, Ohio, where Thomas Gregory Jackson was born in 1947. His family moved to Niles, Mich., where James grew up and formed several bands, one of which evolved into the Shondells.
"We went through a whole lot of players (over the years)," said James. "I had my first band when I played a seventh-grade variety show. Hanky Panky was recorded with a group that I had formed in high school."
The incredible story of Hanky Panky developed over two years and brought the artist unexpected fame through a series of twists and turns. The song was written by Jeff Barry and Ellie Greenwich, a staff songwriting team at the famous Brill Building in New York City, and was originally released as the B side of a single by the Raindrops.
Tom & the Tornadoes — Larry Coverdale, Jim Payne, Larry Wright and Craig Villeneuve — changed their name to the Shondells, signed with a small label in 1963 and recorded a few tracks, one of which became a local hit.
"Hanky Panky sold well locally, but we couldn't get (air play) in Detroit or Chicago because we were kind of right in the middle (of those two cities), so the record kind of died," James recalled. "When I graduated from high school in 1965, I went out on the road with another band for a while. I was home and out of work when I got a call from a DJ in Pittsburgh telling me that the song was a big hit there.
"This sounds like something out of the movies, but a copy of the record found its way to a DJ in Pittsburgh who got such a reaction from it that somebody pressed eighty-thousand bootleg copies of Hanky Panky, and it became a hit."
Local promoters wanted James to bring the Shondells to the Steel City to perform his hit song.
"I couldn't put the (original) band back together because a couple of the guys had been drafted and some of them had moved away, so I had to go to Pittsburgh and hire a bar band," he said.
Thus the Raconteurs — Mike Vale, Ron Rosman, Joe Kessler, George Magura and Vinnie Pietropaoli — became the Shondells, and James took the master of Hanky Panky to New York and secured a contract with Roulette Records. By the summer of 1966, the song was No. 1 on Billboard magazine's national chart.
At Roulette, James teamed with the producing/songwriting duo of Ritchie Cordell and Bo Gentry for a string of hits over the next few years and put together the lineup of Vale (bass), Rosman, (keyboards), Eddie Gray (lead guitar) and Peter Lucia (drums), who were the Shondells through their most-productive years (1966-70).
One hit followed another, including such staples as I Think We're Alone Now, Gettin' Together and Mony Mony. A significant change occurred in 1968. James split from Cordell and Gentry, and he and the Shondells began to write and produce their own material.
"I just wanted to try my hand at (producing)," said James. "In 1968, the record industry was just turned inside out. A lot of pop music acts that were turning out singles had to deal with album acts like Led Zeppelin and Crosby, Stills & Nash. Sgt. Pepper turned the industry toward album-oriented acts, and we were fortunate to be able to make that transition.
"It was an amazing year for us. We wanted to produce our own records, and we were given the keys to the candy store at Roulette Records because only an independent label would have let us do that," he said. "It started with the Crimson & Clover album, which was a drastic style change for us."
Two albums produced several more hits, including Crimson & Clover, Sweet Cherry Wine and Crystal Blue Persuasion. Also, one of the tracks, Sugar on Sunday, was covered by the Clique and was a Top-40 hit in 1969.
The band went on an extended hiatus in 1970 and eventually split up.
"I had collapsed on a stage in Montgomery, Alabama," James remembered. "We were touring, recording or writing for five years non-stop, so I just needed a break."
Vale and Lucia formed a band called Hog Heaven and wrote and produced a self-titled album in 1971. James returned to the scene in 1970 by writing and producing a hit song, Tighter and Tighter, for the band Alive & Kicking.
"When I went back into the studio, Tighter and Tighter was going to be my first solo single, but I just didn't like the way that it turned out," the artist said. "So I changed the song to a duet for Pepe (Cardona) and Sandy (Toder, the lead singers of Alive & Kicking). That was the first thing that I had done outside of my group, but I really needed to get back into doing stuff for myself."
James' biggest solo hit at the time was Draggin' the Line, which cracked the Top 5 in 1971. After leaving Roulette, he recorded a few albums for other labels in the 1970s and returned to the top of the charts with Three Times in Love in 1980.
"It went to number one on the adult-contemporary chart," James said. "By then, the charts were different. It went to, maybe, ten or twelve on the pop chart. I had two follow-ups to Three Times in Love which charted, but they didn't do as well."
But James never really left the charts. A number of his songs have been hits for other artists, most notably Crimson & Clover (Joan Jett), I Think We're Alone Now (Tiffany) and Mony Mony (Billy Idol), and a few more have been used in soundtracks for movies and commercials.
"We've been very fortunate to have our records stay in front of people, not only with the oldies stations, but with the cover versions of the songs," James said. "I've always been flattered by that, and it's brought our music to new generations of fans.
"I look at the crowds at my shows, and it's literally three generations of people, and at least a third of them are under twenty-five. We get so much e-mail from young fans. The older fans are still there, but more than half of the e-mail is from younger fans," James said.
And while his fans may be getting younger, Tommy, 54, isn't, yet he still keeps an active touring schedule.
"It's kind of like being an athlete," he explained. "Every year it gets a little harder, but once you get up in front of people and everything starts flowing back and forth, it's the best anti-aging thing out there. Rock 'n' roll will keep you young."
This story was published on Aug. 8, 2001, in the Northeast Times in Philadelphia, which owns the copyright. It may not be reproduced anywhere else without permission.
Comments?
Visit the Tommy James Web site.
Return to home