The Rock & Roll Army Tour
The Rock & Roll Army show was one of those package tours that featured several artists from an era. Depending on the number of performers, each was allotted so much time on stage so that all pretty much had equal billing. All of the artists would come out together at the end of the show for a big finale.
This particular version passed throught the area in July 2000 and included artists who had hits during the 1960s. Included in this story are parts of interviews conducted with Gary Lewis, Billy J. Kramer, Brian Hyland, Tommy Roe and Freddy "Boom Boom" Cannon. A photo of Tommy Roe appears below.
The '60s are still booming in this army of acts
By Bill McFarland
Northeast Times Staff Writer
As baby boomers age, the music of their generation has become an increasingly popular attraction in the Atlantic City showrooms.
"Sixties music is not going away," said Gary Lewis, who had a string of hits from 1965 through '68. "A lot of the kids who were buying the records back then are now the CEOs of successful corporations that are sponsoring some of these (oldies) shows. And the casinos have created a new market for us as well."
Gary Lewis & the Playboys (This Diamond Ring, Everybody Loves a Clown) is one band that will appear in the main theater at Resorts Hotel & Casino on Saturday and Sunday, July 1 and 2, as part of the Rock & Roll Army show. Other acts on the bill include Tommy Roe, Brian Hyland, Chris Montez (Let's Dance), Billy J. Kramer, Mark Lindsay (Arizona), Mitch Ryder (Devil With a Blue Dress), and Freddy "Boom Boom" Cannon.
Lewis' band will back everybody up, but it won't be the original Playboys.
"No," Lewis said. "Through the years, there have been many different band members, but the original guys had to get real jobs when I got drafted in 1967. When I got out of the service, they were pretty established in other fields, so I had to hire backup musicians. I've had the same band for the last thirteen years."
After the 1960s, though, a few people connected with Gary Lewis & the Playboys became staples in the music industry, including Leon Russell, who was the band's co-producer and arranger.
"Leon arranged everything, and he played some of the overdubs on piano," Lewis said.
Like that distinctive piano riff during the instrumental break on Count Me In?
"That was Leon," Lewis said.
Also, Lewis originally played the drums but decided to front the band and play guitar after a few hit records, so the Playboys needed another drummer.
"My keyboard player said that he knew a guy who was working in a music store giving drum lessons, and it turned out to be Jim Keltner," Lewis said. "In fact, he had given me some drum lessons a couple of months before, and I remembered him."
Keltner went on to do session work with many of the big names in the industry, including some of the Beatles' solo albums, and he appeared in Philadelphia as recently as March with Crosby, Stills, Nash & Young.
And one of the Playboys' earliest bassists was Carl Radle, who later played with Eric Clapton in Delaney & Bonnie and Friends and Derek & the Dominoes.
What's interesting about Gary Lewis & the Playboys was that the band was able to withstand the British Invasion, which dominated the pop music charts in the mid-1960s.
Billy J. Kramer & the Dakotas was one group that was part of that craze. They had the distinction of having the same manager (Brian Epstein) and producer (George Martin) as the Beatles. The band's first record, Do You Want to Know a Secret, topped the British charts but was not released in the United States. A subsequent Lennon-McCartney composition, Bad To Me, made the Top 10 in America in 1964.
"We worked with the Beatles a lot," said Kramer. "We used to open for them, and we were on a tour once when John Lennon said he had a great song for me. He played Bad To Me, and I thought it was very good, but then he played I Want to Hold Your Hand."
That song introduced the Beatles to America and opened the floodgates for all of the other British acts that came to these shores and followed the Fab Four with appearances on The Ed Sullivan Show to the accompaniment of thousands of screaming teenage girls.
"I was totally blown away," said Kramer of his experience with the phenomenon. "I was very young at the time and very intimidated with it all because basically I'm a very shy person. I had a hard time dealing with it."
Subsequent releases (Little Children, From A Window) also did well, but when the fad faded after about three years, so did the hit records.
"I had some minor hits after that but nothing as successful," Kramer recalled. "It's very difficult to come up with the right record, and I felt frustrated because it had taken me a while to learn what I was doing. I felt that I was making better records, but I wasn't getting the same reaction."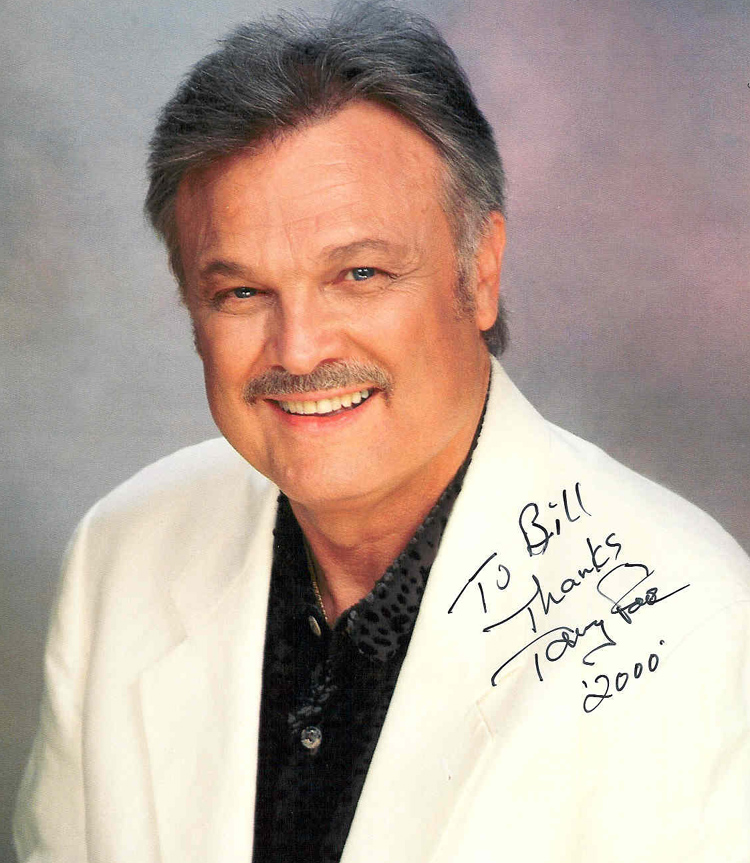 Tommy Roe
Roe and Hyland had the distinction of beginning their careers before that phase and having hits during and after the period.
"The British Invasion really hurt all of the American artists because along with the Beatles came all of the other British acts, and there wasn't enough room on the charts for everybody," Roe said.
"I don't know how I survived. I guess it was because I went into the bubblegum type of stuff and began writing songs like that. The only thing about bubblegum music was that it typecast you, and once you started doing it, you felt limited because you couldn't do serious music."
Roe had the advantage of working with the Beatles prior to their American breakthrough, and the Fab Four actually spawned one of his bigger hits.
"I was on a thirty-day bus tour in England in 1963, and the Beatles were one of the featured acts," Roe recalled. "I wrote Everybody on the trip back from England because I was inspired by their raw rock 'n' roll sound. I think the Beatles helped me see where music was going, which helped me steer my career in a direction where I could still be successful."
Everybody went to No. 3 in October 1963, and Roe returned to the Top 10 with Sweet Pea and Hooray for Hazel in 1966. Around this time, he also appeared on another bastion of 1960s pop culture, The Dating Game.
"I did the show twice, and I won the date the second time," Roe remembered. "I'll never forget one question the girl asked me. She said, of all sports, which one would I like to teach her, and I said 'wrestling.' That did it for me. The audience broke up because they always liked funny answers. We won a vacation to St. Moritz (Switzerland).
"I can't remember her name, but she was a real nice girl, and she was real pretty. After the trip, she went back to the States, and I went to England to do some recording. I never saw her after that."
Roe's biggest hit, Dizzy, was No. 1 for four weeks in 1969. A follow-up record, Jam Up and Jelly Tight, made the Top 10.
Hyland's hit-making days spanned the same period. As a teenager, he had a novelty hit in 1960 with Itsy Bitsy Teeny Weenie Yellow Polka Dot Bikini and made the charts again a few years later.
"About a year after Polka Dot Bikini, I switched labels and began working with new producers — Gary Geld and Peter Udell," Hyland explained. "They had written a song called Let Me Belong to You, which made the Top Twenty and brought me back as a ballad singer."
He followed that up with Ginny Come Lately and Sealed With a Kiss in 1962. In 1966, Hyland hooked up with Snuff Garrett and the rest of Gary Lewis' production team and had another hit with The Joker Went Wild.
"Leon Russell arranged it, and J.J. Cale played guitar on it," Hyland recalled. "That and Run, Run, Run made the Top Twenty."
Hyland struck gold again in 1970 with a cover version of Gypsy Woman, originally done by Curtis Mayfield & the Impressions.
"I was working with Del Shannon, and we had recorded four songs, but we wanted another one in case the ones that we had didn't work out," Hyland explained. "When we played the songs back, it was obvious that Gypsy Woman was going to be a hit. It just stood out."
Mitch Ryder will only appear in Sunday's show at Resorts. Cannon will fill in for him on Saturday.
"Make sure you put that in," he said with a laugh. "People will only get one chance to see Freddy."
"Boom Boom" had a number of hits in the 1960s, and the two best-known songs had interesting histories. His first hit, Tallahassee Lassie, was supposedly written by his mother.
"That's been the story for years because the label thought it would make good press," Cannon said. "It started with an idea from her. She gave me a poem, and I put music to it with my guitar. My producers — Bob Crewe and Frank Slay — liked it, so they rewrote the words."
And Palisades Park was penned by Philadelphia's Chuck Barris, who went on to produce The Dating Game and host The Gong Show in the 1970s.
"Chuck Barris was friends with Bernie Binnick, the owner of Swan Records," Cannon explained. "He called looking for Dion (DiMucci) because he had a song for him called Amusement Park. Bernie gave the song to Bob Crewe and Frank Slay, but Bob didn't like the title, so they changed it to a real place. Chuck was at the session when I recorded it, and he was real excited. It sold over two million copies."
That and subsequent hits, like Abigail Beecher and Where the Action Is, also sold well, but Cannon, like many artists in his day, didn't see much of the money generated by record sales.
"I got ripped off like a lot of people did, but that's just the way the record business was at the time," he said. "The black artists in particular were really hurt. I got eight thousand dollars, a sweater and a ring for Palisades Park. I never got anything more for that record."
"I think all of the artists were shortchanged," agreed Roe, who was protected somewhat because he wrote or co-wrote his hit records. "The songwriting royalties have always been there for me, but I never really got much in artist royalties. When you're a kid, you really didn't care much about that. The kids in the music business today know all about that stuff. I guess they learned from our mistakes."
This story was published on June 28, 2000, in the Northeast Times in Philadelphia, which owns the copyright. It may not be reproduced anywhere else without permission.
Comments?
There are a number of Web sites with information and photos of the artists who appeared in this Rock & Roll Army show. The two that I recommend are maintained or at least sanctioned by the artists themselves — Tommy Roe and Freddy Cannon. Check out the photo gallery on Tommy Roe's site. It contains pictures from the 1963 tour of England that he spoke about in the story. Tommy Roe and Chris Montez were the headliners, and the Beatles were a supporting act!!!
Return to home