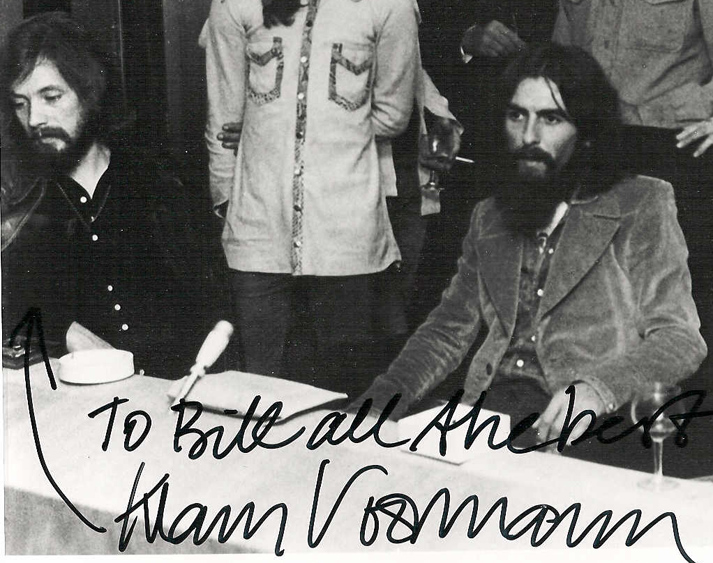 Klaus Voormann (left) and George Harrison at press conference
to announce the concerts for Bangladesh.
When they were Fab
Klaus Voormann knew the Beatles before they became famous, and he shared many adventures with them during their heydays.
By Bill McFarland
Northeast Times Staff Writer
There have been many stories told over the years by those who have had some connection with the Beatles, but few people could match the tale of Klaus Voormann.
As a young art student in Hamburg, Germany, he befriended five teenagers from Liverpool, England, who were away from home for the first time in their lives. That fateful meeting in 1960 began a series of events that led to the monumental rise to fame that the Beatles enjoyed. Voormann was a part of many of them and was perhaps closer to the Fab Four, save family members, than anyone else.
He will share his memories and display some of his art at the 2002 New York Metro Beatlefest, which will be held this weekend at the N.J. Crowne Plaza Meadowlands Hotel in Secaucus, N.J.
Serious fans know most of the story, but for those who don't, the Beatles cut their teeth and became a much tighter band by serving an apprenticeship of sorts in the raw nightclubs in the northern German city. After a spat with his girlfriend, Astrid Kirchherr, Voormann happened to wander into the St. Pauli district of Hamburg one night and was drawn to the sounds emitting from the Kaiserkeller club.
"It was different," Voormann said in a telephone interview from Germany. "I had heard some rock 'n' roll records from Chuck Berry and Elvis Presley, but I had never heard anything like (the Beatles) before. Their sound was very raw."
Voormann spread the word among his friends, and soon the Beatles had a loyal following in Hamburg, which led to engagements at better clubs, both in Germany and in Liverpool when the band returned home.
Kirchherr fell almost immediately for the group's bassist at the time, Stuart Sutcliffe. The original "fifth Beatle" left the band a short time later and settled in Hamburg, where he attended an art college and planned to marry Astrid. Tragically, he died of a brain hemorrhage in 1961.
Voormann, meanwhile, remained close to the band and even visited the boys in Liverpool. During the early days of Beatlemania (circa 1962), John Lennon, Paul McCartney, George Harrison and Ringo Starr moved to London, and Voormann actually crashed with Harrison and Starr when he decided to relocate to the same city.
"I was looking for a job as a commercial artist in London, and George and Ringo invited me to stay with them until I got a place of my own," said Voormann.
The two Beatles were sharing an apartment at the time.
"It was horrifying in a way," Voormann continued. "Those guys couldn't move. It was impossible to get out of the apartment because there was always a hundred-and-fifty fans (at the entrance).
"The apartment wasn't very nice. There was no good furniture, and they had nobody to take care of them. They worked so hard, but they didn't see any of the money (that they had earned), and they came home to an empty apartment."
Voormann eventually found work as an artist, but the musical bug bit him as the Beatles began to conquer England and then the rest of the world. He took up playing the bass, returned to Hamburg and formed a trio with two Liverpudlians — Paddy Chambers and Gibson Kemp.
Kemp had replaced Starr in Rory Storm & the Hurricanes when Ringo left that band to join the Beatles and had also played with Kingsize Taylor & the Dominoes. Chambers had previously been with the Dominoes and the Big Three, another popular Liverpool band.
Paddy, Klaus & Gibson released a single, I Wanna Know, but it did not sell.
"The band was good, but it was meant to play in clubs for people to dance," said Voormann. "Somebody came along with a song that he thought would be a hit, but it wasn't any good."
Voormann would enjoy a succession of hits when he joined Manfred Mann in 1965. The band's first hit in the United States — 1964's Do Wah Diddy Diddy — featured the distinctive vocals of original lead singer Paul Jones, but Manfred Mann underwent many personnel changes. Voormann replaced bassist Jack Bruce, who went off to form Cream with Eric Clapton and Ginger Baker, and was on the group's other big stateside hit in 1968, Mighty Quinn (Quinn the Eskimo).
"I played bass and sang harmony on that record," said the musician. "And the lead singer was Michael D'Abo."
During this time, Lennon approached Voormann and asked him to design an album cover.
"It was a really tough time for the Beatles," recalled Voormann. "They weren't really doing love songs anymore. They were going in a different direction, so to do another group photo (for an album cover) would have been kind of silly. They started going back to their childhood and things that had happened in their lives, and it came out in their songs."
Voormann's artistry on Revolver earned him a Grammy award for best album design in 1966.
When the Beatles began to record individually, John named his backup group the Plastic Ono Band. It had many members over the next few years, but its first live appearance was in Toronto, Canada, in 1969. For the first time in three years, Lennon took to a stage, this time as a solo artist, with Voormann, Clapton and drummer Alan White behind him.
"It was exciting for (the rest of) us because we were just playing songs, but (the concert) was difficult for John," said the bassist. "Whenever he was on a stage before, it was with the Beatles. This time, he was out there by himself."
---
Although the others had given the idea some thought at some point in time, McCartney was the first to announce publicly that he was leaving the Beatles in 1970. Almost immediately, there were rumors that John, George and Ringo had invited Voormann to replace Paul.
"That rumor was blown out of proportion," Voormann said. "(The topic) was never discussed. I saw the guys a lot during that time, but (replacing Paul) was simply out of the question. We never talked about it at all."
Voormann went on to do session work for such artists as B.B. King, Jerry Lee Lewis, Harry Nilsson and Carly Simon. He also appeared on many of the early solo recordings of the Beatles, including Harrison's All Things Must Pass and Lennon's Imagine.
And he performed with George, Ringo and a host of other well-known musicians, such as Clapton, Billy Preston, Leon Russell and Bob Dylan, in the concerts for Bangladesh at New York City's Madison Square Garden on Aug. 1, 1971. The afternoon and evening shows were organized to raise funds to care for refugees who were fleeing a civil war in the nation formerly known as East Pakistan and spilling into India.
"I was in on that project from the start — when George began talking to Ravi (Shankar) on the phone," said Voormann. "I was living at Friar Park (Harrison's estate) at the time, and I watched the whole thing come together. George and I flew to Los Angeles together when the concert was announced to the press.
"The interesting thing was that everybody did it without asking for money," Voormann continued. "Nobody got paid. We had two days of rehearsals, and every moment was happiness. It was a great experience because everybody liked each other. We were all friends, and when you're on the same wavelength with friends, you can create some good music."
Both shows were filmed and recorded and edited into a movie and three-record album. The performers all copped Grammys when The Concert for Bangladesh was chosen for album-of-the-year honors in 1972.
Voormann moved to the West Coast and spent much of the 1970s working as a session musician. He appeared on Randy Newman's Short People LP and had joined Dr. John's band by the end of the decade.
In 1990, he, Kirchherr and Jurgen Vollmer collaborated on a book (Hamburg Days) about their early experiences with the Beatles, and in 1996, Apple Records asked him to design the cover of the Beatles' Anthology. He also returned to Germany to live and currently works as an artist, doing both sketches and paintings.
And like everyone else, he was saddened when Harrison passed away in November.
"It was particularly hard for me because George was a great friend," Voormann said. "He was the only one who cared about me so much that he succeeded in getting into my inner self.
"I went to see him when he was in Austria (for cancer treatments). He wasn't well at that time, but they had hopes that things would take a turn for the better. Then I didn't hear anything for some time until I got an e-mail from (George's wife) Olivia when they were in New York. She said that (the doctors) were trying their best, but they didn't have much hope. George was going downhill."
We all know how that story ended, but the music and spirit of George Harrison and the Beatles will be celebrated forever.
"The whole band was just magic," Voormann said.
This story was published on March 6, 2002, in the Northeast Times in Philadelphia, which owns the copyright. It may not be reproduced anywhere else without permission.
Comments?
Visit Klaus Voormann's Web site.
Click here for information on the next Fest for Beatles Fans in your area.
Return to home