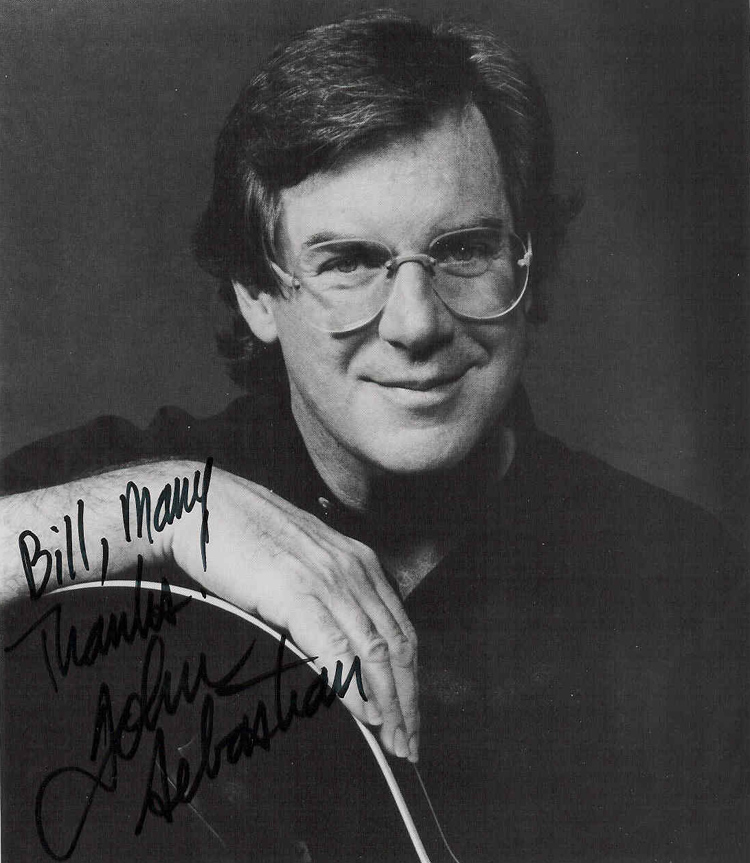 John Sebastian
Goin' back to his roots
John Sebastian has had many hits, including Summer In The City and Welcome Back. At the Keswick, he'll be treating fans to a solo show.
By Bill McFarland
Northeast Times Staff Writer
Aficionados of 1960s and '70s rock and folk music can get a dose of both, and much more, in the person of singer/songwriter John Sebastian. The creative force behind the Lovin' Spoonful, who later went on to a successful solo career, will appear with veteran rocker Dave Mason at Glenside's Keswick Theatre on Thursday.
Since his heyday, Sebastian has continued to record solo albums, and he's made music for television, movies and even cartoons. His latest project, however, marks a return to his roots — jug-band music.
"A record executive called me and said that he thought that I could probably put together the best jug band that could be put together nowadays, and that sentence just stayed with me for weeks," Sebastian said during a phone interview.
The musician was finishing his last solo project, Tar Beach, in 1993 when he hooked up with the people who would become members of John Sebastian & the J-Band, including Jimmy Vivino, who is the guitarist in the Max Weinberg Seven, the house band for Late Night with Conan O'Brien.
Other members included Fritz Richmond, James Wormworth, Paul Rishell, Annie Raines and Geoff Muldaur. The group's first effort was I Want My Roots, and Chasin' Gus' Ghost was released last year. As with anything else, the timing was right for Sebastian.
"At the time, I was thinking that I could go on just being what others expected of me, or I could take another turn at some of the things that had interested me before," he said of his decision to try something old. "The jug-band idea really burned a hole in my soul."
It's no wonder. Sebastian grew up in New York City's Greenwich Village and was a part of that scene as his musical career began to take shape. In the early 1960s, he performed with the Even Dozen Jug Band and, for a short time, the Mugwumps, whose members included Cass Elliot, Denny Doherty and Zal Yanovsky.
"The Mugwumps kind of died a natural death," Sebastian said of the band that would spawn two of the biggest American pop groups of the 1960s. "The Mugwumps were from the commercial folk music period when you could assemble some good voices, hire an arranger and musicians, find some good songs from the songwriters of that era and proceed from there.
"But at that time, there was an enormous transition happening. Suddenly bands were self-contained in a new way. (Band members) actually played their own instruments and wrote their own songs."
Doherty and Elliot hooked up with John and Michelle Phillips and became the Mamas & the Papas. Sebastian and Yanovsky teamed with Steve Boone and Joe Butler in 1965 to form the Lovin' Spoonful.
Within six months, the band had its first hit, Do You Believe In Magic, and followed it up with a string of hits over the next two years, including You Didn't Have To Be So Nice, Daydream and Summer In The City.
"It was a very fertile period," Sebastian said.
The Lovin' Spoonful began to fall apart in 1967 when Boone and Yanovsky were busted for marijuana possession. Yanovsky left the band and was replaced by Jerry Yester, who formerly produced the Association (Cherish, Along Comes Mary). Another album produced a few more hits (Darlin' Be Home Soon, She's Still A Mystery), but Sebastian left in 1968 to pursue a solo career.
"Before the Spoonful, I had a successful career as an accompanist, and a lot of my contemporaries were starting to have their own success," he explained. "The first solo album that I made was an attempt to use all of those people."
Unfortunately, legal problems held up its release for more than a year. In the meantime, Sebastian declined an invitation to join Crosby, Stills & Nash.
"Stephen (Stills) was having trouble finding a drummer, and he said, 'John, you can play the drums,'" Sebastian said. "I'm really just an amateur drummer, but Stephen was saying that they'd have another voice and another songwriter in the band (if I joined), but I had just navigated the dangerous shoals of quitting a nationally visible band and was trying to get a solo album released."
He didn't turn down an unexpected invitation to perform at Woodstock in 1969.
"I went as an audience member, but as it turned out, I had so many friends there that I ended up spending most of the time backstage," he said. "At one point, my buddy, Chip Monck, said that he needed somebody to go out while they swept the stage."
Monck, a popular disc jockey in Los Angeles, was the stage announcer at the festival.
"I had to find an acoustic guitar to play," said Sebastian. "I ended up borrowing one from Tim Hardin."
Sebastian's impromptu performance is forever immortalized in the Woodstock film, which won an Academy Award for best documentary.
John B. Sebastian was eventually released and was a Top-20 album in 1970. Subsequent albums didn't sell quite as well, but the singer returned to the top of the pop singles charts in 1976 with Welcome Back, the theme song for the television series Welcome Back, Kotter. It was a bittersweet experience for the artist.
"It was one of those wonderful, unlikely things," he said. "When a musician comes upon hard times, you take whatever work you can get, and that was one of the things that came to me. The producers showed me some rough scripts and what video they had shot (thus far) so that I could get the idea for the music.
"Warner Brothers really didn't put any effort into the making or selling of the Welcome Back album, but the single turned out to be (the label's) second-best-selling 45 of 1976. The album was made rather hastily, but there are some songs on it that I still hope people will discover some day."
With some of the members tied up with other commitments, Sebastian doesn't always travel with the J-Band. He'll have Paul Rishell and Annie Raines with him for a show in New Hope on Friday, but the Keswick is a solo gig.
"I'll still play my songs," he said. "Certainly, in the strictest sense of the word, without the jugs you don't have that kind of craziness on stage, but what I do have to offer includes that body of material, which heavily influenced the Spoonful and all of the music that I've written."
This story was published on Jan. 31, 2001, in the Northeast Times in Philadelphia, which owns the copyright. It may not be reproduced anywhere else without permission.
Comments?
Visit John Sebastian's Web site.
Return to home