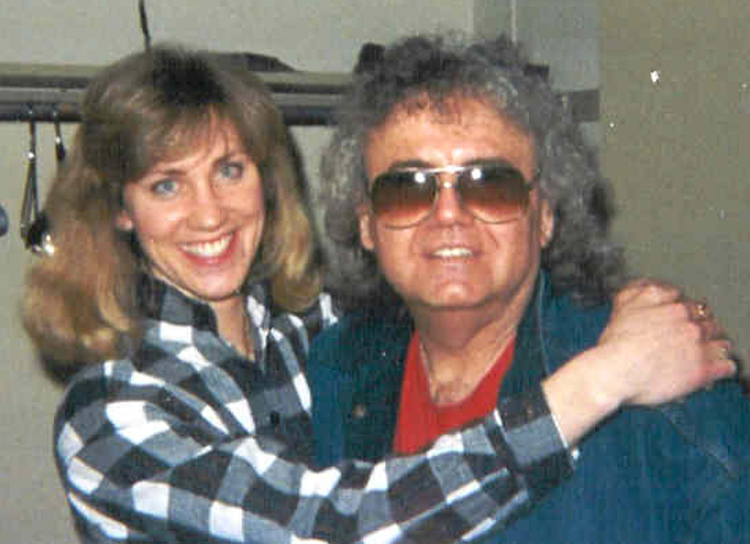 Crazy Mary with Jay Black (circa 1991).
Boomers still clamor to hear Black belt them
Jay Black is on the sunny side of 60, but he can still belt the old songs that baby boomers continue to line up to hear. The 1960s recording artist returns to Atlantic City this weekend for two shows at Resorts.
By Bill McFarland
Northeast Times Staff Writer
For a guy who is 62 years old and who hasn't had a hit record in 30 years, Jay Black is one busy man.
Baby boomers have created a fertile market in Atlantic City for 1960s music, and Jay Black & the Americans play there on a regular basis, including this weekend, when they'll appear at Resorts Casino & Hotel on Friday (10 p.m.) and Saturday (9 p.m.), Sept. 15 and 16.
"It's still hard for me to believe," Black said during a telephone interview. "I was born in 1938, and in the 1940s, guys were dying in their fifties, and here I am over sixty and still getting up on stage and belting out songs."
Nobody's complaining. Like most performers of his day, he derives no income from reissues of his old records, so performing is his bread and butter.
"I signed away all of my royalties," he said. "It was an ill-advised decision."
But one from which he has rebounded because the demand for his services seems to be increasing.
"I probably had one of the best years of my career in 1998," Black said. "Last year, I sold out twenty-one straight shows. One time I had to do seven shows in six nights, and I was a little frightened about that.
"I would like to curtail the traveling part of it, but when somebody makes you an offer that you can't refuse, you have to take it. We don't jump in the car and drive from city to city like we did in the 1960s. The casinos send a limousine to pick you up, and I usually do more than one show in an engagement."
Jay & the Americans formed in 1961 as a quartet with John (later Jay) Traynor, who had sung with the Mystics, Sandy Deane and Kenny Vance, formerly of the Harbor-Lites, and Howie Kane. The group was signed to United Artists records by producers Jerry Lieber and Mike Stoller.
The band's first release, Tonight, from the hit Broadway show West Side Story, was a regional hit in the New York area, and a follow-up, She Cried, was a top-five hit nationally. Unfortunately, some dissension set in, and Traynor left.
Meanwhile, David Black was singing lead for the Empires. He was invited to audition, and the tide changed for the band. David (now Jay) Black also brought along guitar player Marty Sanders, and the group became a quintet.
"Nothing was happening with the group," said Black. "They weren't working, but Marty and I knew the guys from the neighborhood. I came on and added a new twist, and word started spreading about my voice."
It was Black's magnificent voice that gave the group the distinctive sound that allowed it to turn out one hit record after another from 1962 through 1970. Only in America, Come a Little Bit Closer and Let's Lock the Door (And Throw Away the Key) were among the band's first hits.
"I was also singing songs that they wouldn't let me record," said Black, explaining his frustrations about the song selections. "After three or four hits, they finally started letting me record songs that I wanted to do."
Thus ended a three-year battle to record Cara Mia, which would turn out to be Black's signature song. The group actually began performing it in concerts in 1962, and it was recorded for a live album that year, even though the track was deleted from the final release. Black got his break after a chance meeting with a major star at the time.
"I was working with Sammy Davis Jr. on a (television) show called Hullabaloo," Black explained. "Sammy said that he would be pinch-hitting (for Johnny Carson) on The Tonight Show, so I asked him if he could get us on the show. This was a show that I watched every night, and I couldn't believe that I was even going to be on it."
Jay & the Americans did Cara Mia and brought the house down.
"I had to be in Cleveland the next day, and the pilot on the airplane told me that he saw the show the night before," Black said. "And other people on the plane recognized me and also said that they had seen the show. The power of television is unbelievable."
The record company executives still weren't completely sold, but they conceded and released Cara Mia as a B-side to When It's All Over. A radio disc jockey somewhere flipped the record over, and the listening public flipped over Cara Mia, which jumped to No. 4 on the national charts. Black claims that this happened in Philadelphia and that the disc jockey responsible was either Hy Lit or Joe Niagara.
"Then (the record company) started taking me seriously, and I did Some Enchanted Evening (from Rogers and Hammerstein's South Pacific), and I knew Roy Orbison well and did a cover version of Crying that became a hit."
Jay & the American worked with some of the biggest names in the business and recorded songs from the likes of Lieber and Stoller, Barry Mann and Cynthia Weil, Wes Farrell, and Tommy Boyce and Bobby Hart. He also gave a break to a young songwriter who was working out of the famed Brill Building in New York.
"Neil Diamond came to me with a song called Sunday and Me," Black recalled. "It was the first hit song that he ever wrote. I just did an interview for a film documentary about the Brill Building, and I told them the story about Neil and that song. And look what's happened to him since then."
Black took a hiatus from the band in the mid-'60s and did some acting in summer stock productions and made a few television commercials.
"That was when I was still young and good-looking," he chuckled. "I did Bye, Bye Birdie in Chicago in 1965. Sandy Duncan was in the production."
He also cut a solo album that was never released, although a single, What Will My Mary Say?, was released in 1966.
"I do it in my show because so many people request it," he said. "It charted, but it didn't go very high. It hit number-one in a few cities, but on a national level it didn't do so well."
When the group re-formed, there were personnel changes, including the addition of Walter Becker and Donald Fagen, who later went on to form Steely Dan. The band cut a series of cover versions for a pair of albums that spawned two of Jay & the American's biggest hits — 1969's This Magic Moment, formerly done by the Drifters, and 1970's Walking In the Rain, an old Ronettes hit.
Black's most-recent appearance in the immediate Philadelphia area was at the inaugural Vetrock concert in Willow Grove in May 1999. Supporting veterans and active-duty military personnel has been an integral part of his career.
"I supported the troops during the Vietnam War," he said. "I used to appear regularly at Fort Bragg (N.C.) for the guys who were going over (to Vietnam). Even today, veterans come up to me and tell me how much they appreciated those shows."
Public opinion about Vietnam changed in the late '60s, and anti-war demonstrations were common, but Black kept playing for the troops.
"It was a horrible feeling seeing all of those young kids going over there," he said. "I was only in my late twenties at the time. I wasn't crazy about the war — nobody was — but why take it out on the kids who were dying?"
This story was published on Sept. 13, 2000, in the Northeast Times in Philadelphia, which owns the copyright. It may not be reproduced anywhere else without permission.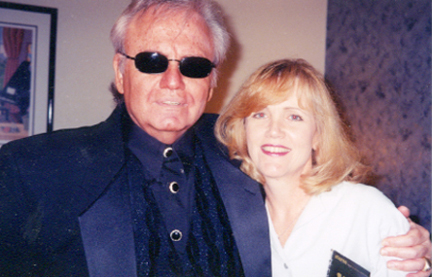 Jay Black with my sister Mary in September 2000.
Comments?
Return to home